Discussion Starter
·
#1
·
hi everyone. sorry it has been a while for me to update about my car. for those of you who do not know my car here is a small recap.
july 2009 supercharger kit fitted
july 2009 kit has a list of issues and car off road for 2 months
august 2009 most issues fixed and car on the road producing 238bhp
a fault free 14 months of driving and 11000 miles. here is a list of the parts already modified
-koni adjustables all round at standard height
-quick shift kit
-janspeed manifolds and decat
-piper full stainless exhaust
-gauges in pillar pod including wide band air/fuel
-water/methanol injection, mappable
during this year i decided 240 bhp was not enough and wanted to take it further. my engine was running perfect with no problems which i was very impressed with. i bought loads of upgrade parts during the year over the course of a few months and did a big rebuild in late october. thes were the items
-new hi spec motorsport front rotors and green stuff pads (might i say greenstuff pads are awesome)
-gearbox rebuilt with quaiffe lsd, uprated bearings,new seals,uprated oil
-lightened and balance flywheel (beautifully machined and half the weight)
-cg motorsport organic clutch
-alloy fuel pressure regulator, adjustable
-newer engine (27000 miles) rebuilt with omega low compression forged pistons. reduces 12:1 down to 8:1, 2 brand new cylinderheads, all new cylinder liners and oil pump.
-new cambelts rollers waterpump oil pump etc.
-new home made pipercross induction kit
-4 new pirelli pzero nero tyres (very good on this car)
-modified air con pipe
-piper high lift exhaust cams only with vernier pulleys andavnced 8 degrees
-6 brand new original injectors
i rebuilt the car and installed the engine over the course of 2 weeks at a friends garage. they let me use a ramp which really helped. i made a nice job of it and tidy'd up any loose ends from the original charger fitment. the car runs great with no issues atall. the pistons are from omega and were designed by rover themselves from when they were prototyping the supercharger kit. there were three diffent forged pistons made for this application designed by rover each with a different dish type but same compression ratio. i also had a set of piper cams from ages ago that are for naturally aspirated. i decided to fit the exhaust cams and not the inlet cams. i thought getting the air out more efficiently was more imporatant seeing as the inlet is forced induction. i also advanced the exhaust cams 8 degrees to reduce valve overlap and take maximum advantage of the boost pressure. i heard that some one tried fitting the full cam kit and it reduced performance so i did not try.
i was worried that the lightened flywheel twinned with the low comp pistons might make it hard to pull away but the car pulls away as smooth as before. i had to add a small amount of fuel due to the lower compression pistons and therfore more air. the car was surprisingly faster that before even though with lower compression pistons. it went like the clappers. i think the cams made a real difference.the quaiffe is a very good unit. the car barely wheel spins compared to before. it does torque steer tho.
in my quest for more power i decided to take a hack saw to the supercharger pulley. the whole idea of lower comp pistons was to increase th boost and gain more power and the only way is to reduce the charger pulley diameter. unfortunatly the pulley is machined in one piece and forms a shaft ,oilseal and bearing support so would have been weeks of work on my dads lathe so we machined the old pulley off the shaft and tig welded the old alternator pulley to the shaft. this pulley is very small and spins the charger too fast. the maximum rpm of the charger is 15-16000 rpm . the original speed is 14850 on the revv limiter. with the small pulley the rpm would have been 18000 on the limiter so i got the ecu remapped so the revv limiter comes in at 6250 instead of 6800. not much of a loss in revvs. the boost pressure is now 10psi. this then created a problem with fuel starvation. i was running the 7th injector at max and still running very weak due to the extra air. this is why i introduced the adjustable fuel pressure regulator. i incresed it to 47psi at idle and this has cured the problem. what an improvement. because the charger is spinning faster all the time the boost comes in straight away from very low revvs. the torque is incredible and power is amazing. i do not miss the 6800 revvs atall due to the torque it now produces. i will get it rolling road very soon and let you know what its running. it has done about 2000 miles since the new engine and smaller pulley trouble free. there are some videos i just uploaded on you tube of it. have a look. let me know what you think.
this is last year before the new engine
http://www.youtube.com/watch?v=ebOELTg3oFI
these are now
http://www.youtube.com/watch?v=_YFDy2zMffc
http://www.youtube.com/watch?v=KV0ILsYFyBg
some pictures. some old, some new. will get some new ones soon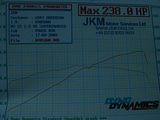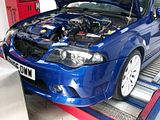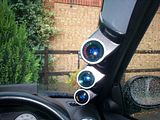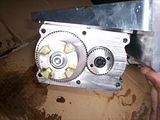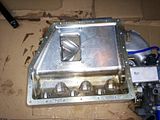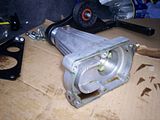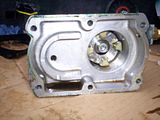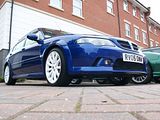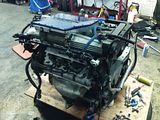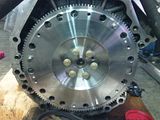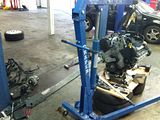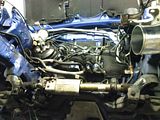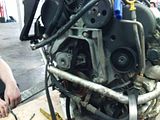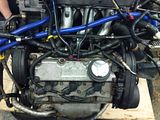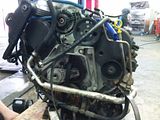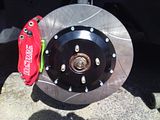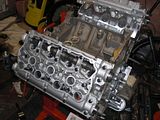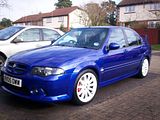 thanks for looking