Discussion Starter
·
#1
·
Some of you may have seen this over on .org, but thought i would introduce it over here.
After seeing another member having made one of these themselves, and subsequently selling it, i thought 'sod it, i'm gonna make one myself!!'
This is my old boost gauge holder, some of you may have seen this picture before:
I got hold of a spare speedo surround, and centre vent from a scrappers for just a fiver, nice result in my opinion. :broon:
I got a 52mm hole cutter, and carefully cut a hole in the left hand side of the surround in the position i wanted. (sorry, no picture
)
I had my gauge gaffa taped in place for a while, just to make sure i got the hole in just the right place.
So today, i decided to go out and buy some fibreglass bridger, and some body filler.
I had a old non working boost gauge, and used this to help form a mould.
I have wrapped the body in gaffa tape, and put the fibre glass onto it. I'm hoping the body will come out in one piece, after a bit of persuasion.
I held the body in place, with gaffa tape on the underside of the speedo surround.
So far so good really, here are a few current pictures:
Need to let it dry thoroughly, then start applying filler to smooth it off, then paint it all satin black.
Took out the old holder, and popped in my boost gauge to see how it looks.
Gauge with small shield:
Gauge without shield:
From the back:
All sits quite nicely, just need to wait till it sets fully hard, before i put a skim of filler over, then the laborious job of smoothing it down.
Not sure if the gauge looks better with the shield on or off.
First layer of filler, just need to let it set before sanding down, then probably some more filler after that.
First round of sanding, need to add a little more filler to fill the gaps:
Well, after a long time of sanding and filling, i have finally added a coat of paint.
Looks good l think:
Here are a few pics of the new speedo surround that i have finished, and fitted:
Daytime: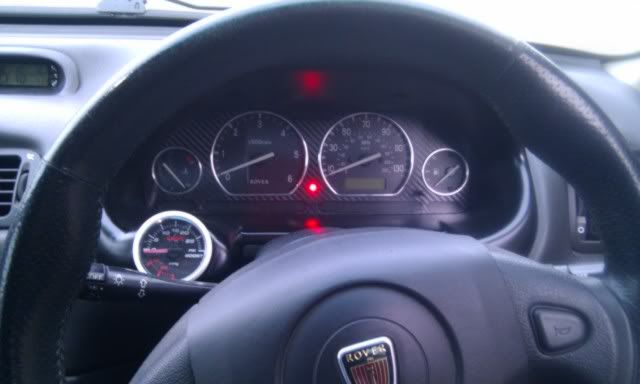 Nighttime:
Works pretty well i must admit.
Cheers
Dave