Discussion Starter
·
#1
·
I took the car to the dyno on Friday. I had mey new 600cfm carb and tall single plane manifold all bolted on and ready to rock.
It took 4 passes to get the AFR's right while running noramlly aspirated. I ended up drilling out my biggest secondary jets to make the numbers right.
On my final NASP run she made another 25bhp over the last setup. So 244.8bhp over the previous 219bhp. that put a smile on my face.
Then I stuck a 100shot of gas on. AFR's well rich. Run aborted for re jetting. After 3 more runs I had just got the AFR's right at WOT on gas. Then I ended up on the final run with 75hp less gas than I had been previously running. I was expecting this run to yield 395bhp to match the old figures with a 300 shot.
As there had been 1 hour between passes I expected the tyres to have cooled enough. On the last run of the day. She span up nice and smooth. Then it hit WOT and the gas came in. She tried very hard to jump off the rollers, but Martin hung in there. After 4.5 seconds at WoT on gas the AFR's were just about spot on. Then stuff happened
AND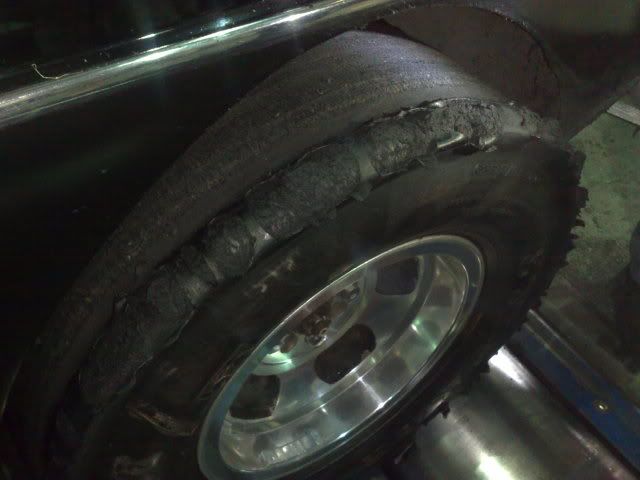 Luckily the tyres only had 3mm of tread left which I was hoping to trash next weekend. Now I've had to fit my old street tyres as I cant get any new slicks for 8 weeks
Perry